Smart struggling right brain kinesthetic learners in public or a charter school often have:
A set of strengths that center around imagination, creativity, being visual and learning best when they see and experience information.

Challenges with

reading comprehension

and math word problems

Executive function

issues that may include

working memory

,

processing speed and/or

attention.

Auditory and/or

visual processing

issues.

They are often frustrated and/or anxious.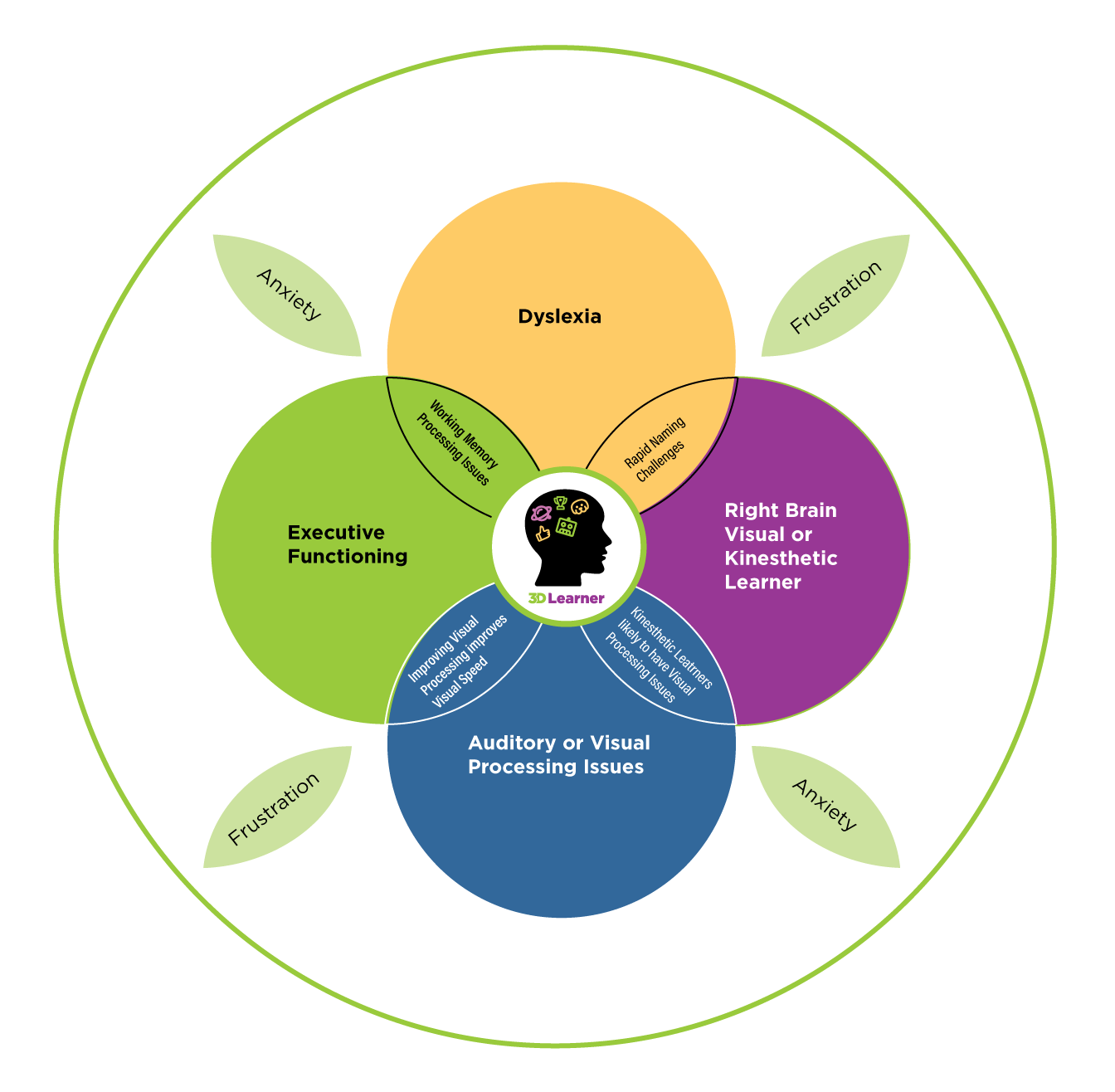 They students are often smart kids who are bright right brain kinesthetic learners with related challenges with significant upside potential.
They also often are not getting all the help they need to succeed for three reasons:
Public and charter schools are often slow to identify

dyslexia

or a

learning disability

.

Public and charter schools are moving to more and more phonics-based intervention.  These teach necessary skills, but often are not sufficient to significantly increase

reading comprehension

and math levels.  

Most teaching in public and charter schools are not geared to:

Teach the way a

right brain

kinesthetic

learner

learns best.

Address

executive function

challenges. 

Address

visual processing

issues.

Help a smart struggling child succeed. 
A bright right brain kinesthetic learner often has the capability of making significant gains in months with the right outside help.

Consider three examples:
---
Melissa's parents were told that third grade retention was a virtual certainty. She was told by a friend to contact us. While she did have a learning disability and dyslexia, she was also a bright right brain kinesthetic learner, who had an attention and working memory issue. Within a few months, she was able to score above grade level in reading comprehension and excel in middle school and beyond.

---
Alex was a 6th grader.  He had never been identified with dyslexia or a learning disability.  He had been diagnosed with ADHD.  He was inattentive, hyperactive and impulsive.  He had been a star baseball player, but now his batting average was down to 250 and he had only hit one home run the previous year.  He had also been suspended twice within two months, for minor infractions.  
Our assessment showed that Alex was a bright right brain kinesthetic learner; had well above average in intelligence amd had significant challenges with:
Re

ading comprehension

— both parents were surprised to learn he was 4 years below grade level

Attention — he could focus for two minutes and then he was gone

Evaluation skills. 
Like many right brain kinesthetic learners he was
Very creative, both in problem solving and in explaining why he did something wrong

Prone to make bad decisions
With training, Alex was able to:
Improve his

reading comprehension

4 grade levels within 4 months

Become an A/B student

Avoid trouble for years to come

Improve his baseball results from:

A 250 batting average to over 400 and lead his team

1 to 10 home runs in a season, again leading the team

See himself as a smart kid who learns differently
---
James' parents were really frustrated. As an 8th grader, his reading comprehension was 4 years below grade level, and he avoided reading. By tapping into his strengths and interests and addressing his processing speed, he was able to improve his comprehension 4 grade levels within 4 months, increase his reading speed by 80 percent, excel in high school and earn scholarships to 3 schools.

---
These students succeeded because their parents chose a path that worked well for their child. 
These students are often:
Far brighter than present results would indicate.

Bright

right brain

kinesthetic learners

who have not been taught how to leverage their strengths

Anxious and/or frustrated.

Likely to not catch up and even more likely to fall further behind their peers — in the last six months.
2023 Challenges Are Larger Than We Have Recently Seen
  Recently we have seen:
5th, 6th and 7th graders who are 2, 3, 4 and even 5 years below grade level in reading comprehension.
2nd, 3rd and 4th graders who are 1. 2 and even 3 years below grade level in reading comprehension

Math problems, especially math word problems, an even more significant issue

Anxiety and frustration levels that are far worse than during pre-pandemic years

.
In an informal study of educators and psychologists, 3 themes emerged in this post pandemic era:
1–Readers who were above grade level are doing just as well if not better – they appear to have read even more during the pandemic. 
2–Students who were on grade level pre-pandemic are at or near grade level.
3–Struggling students:
Fell even further behind in

reading comprehension.

Are often even further behind in math – where prior year's struggles make the next year much harder.
5 Steps to Help Your Bright Right Brain Kinesthetic Learner Succeed
STEP 1
Reject the status quo and focus on how your child can make significant gains within months.
STEP 2
Work with someone who can identify your child's:
Strengths

Challenges

Present Level of Performance
⇒⇒ Note, while many assessments focus on labels like dyslexia, learning disabilities, or ADHD, we have found it very helpful to assess for:
Whether your child is a

right brain

and/or

kinesthetic learner

Various processing issues that include:

Working memory
Processing speed
Attention
Auditory processing
Visual processing issues that are often missed

Present levels of performance — especially for

reading comprehension
STEP 3
 Set BOLD Goals.  These might include:
Improving your child's

reading comprehension

by 2 or more grade levels within 6 months

Getting your child back to grade level in math

Cutting homework time by 33%.  For a child taking 3 hours to do homework each night,

this could save each of you 5 hours a week and 100 hours over the next 20 week

Improving their

working memory

and attention

Boosting their self-esteem
STEP 4
Partner with an educator who can help:
Your child achieve their goals

You to be the coach and advocate your child needs

Help you navigate the parent – – school connection to get the support your child needs
STEP 5
Be focused on the goals and open on the how  
Public and Charter Schools often do not have programs that capitalize on a child's strengths, identify and address their challenges, or help your child make significant gains within months.
If you have a bright right brain kinesthetic learner, or you just want a no cost conversation;
Call us at 561-361-7495 or
Click here to schedule a Stress to Success Conversation
Background on How We Learned About The Right Brain Kinesthetic Learner.  We had tried various reading comprehension programs, dyslexia treatments and tutors.  It was not until I learned about the right brain kinesthetic learner, that I developed the 3D Learner Program ® that helped my daughter to improve her reading comprehension 4.2 grade levels in 7 months and to become the teacher she never had.
3 things we know about these bright right brain kinesthetic learners:
They can often struggle for years

They can often become far more successful in all aspects of life

They are 100 percent dependent on their parents finding the right help 
Be the Parent Who Makes The Difference, Especially If Your Child is a Bright Right Brain Kinesthetic Learner with Significant Upside Potential
If you have a bright right brain kinesthetic learner, or you just want a no cost conversation;
Call us at 561-361-7495 or
Click here to schedule a Stress to Success Conversation