Many smart struggling students are either a Kinesthetic Learner, have Executive Function challenges and/or have a Visual Processing issue.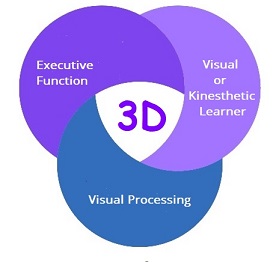 Is your child a visual or kinesthetic learner with executive function &/or a visual processing challenge?
Our comprehensive assessment process is designed to tailor a solution to meet your needs
Three key differences to take note of in 2022 – 23 school year:
Reading comprehension

and math gaps are wider than in prior years.  Math is now the most common issue. 

Math word problems

are often a huge problem for an older

kinesthetic learner

.
Executive function

and

visual processing

issues are even more common and more severe
Anxiety and frustration are much bigger issues
7 Ways The

3D Learner

Assessment is different than most:
1- Our end goal is to tailor a program to help your child succeed. 
2- We identify your child strengths and how to use them in creating a program
3- We identify the key executive function issues that often hold a student back.  These may include attention, working memory, processing speed, etc.)
4- We assess for a visual processing issue.  For local clients, we use a Visagraph ® that shows you exactly how your child's eyes track when reading
5- We assess for your child's present level of reading comprehension, and we assess their writing skills
6- We identify key learning strengths and challenges.  The strengths often boost a student's self-esteem and show potential.  The challenges show us where improvement is needed.
7- We tailor a program to meet your child's needs and your goals.
We also recognize that anxiety is a major issue and …
3D Learner
is now offering the
Safe and Sound Protocol
® at no cost

for those investing in a Comprehensive Assessment by September 30th

Call 561-361-7495 or click here to book an
Assess for Succes
s
conversation
Note, the 3D Learner assessments can be done remotely via zoom or at our Coral Springs office.  The only difference is we cannot do the Visagraph ®, that shows visual tracking, and the Interactive Metronome ®, that assesses for attention challenges, remotely,
As a transformational learning center, we use the assessment process to tailor solutions to meet our students' needs.  Most parents are frustrated that their child struggles with 3, 4, 5, 6 or all 7 of the following challenges:
They are a lot smarter than their present level of

reading comprehension

would indicate

Math may be an issue, but

math word problems

are almost always an issue

Putting their thoughts on paper and/or handwriting Their child may be able to hyperfocus on video games, Legos or science, but their child often has difficulty paying attention to that which is boring.  A fraction of our students have ADHD, Attention Deficit and Hyperactivity Disorder), others have an attention issue, and others do not

Spelling, remembering math facts and remembering simple auditory instructions is a challenge.  This is often called

working memory

Their child reads and may respond slower than one would expect —

processing speed

.  People do not realize this is often caused by a

visual processing

challenge

Anxiety and frustration are all too common
Why We Assess for How Your Child Learns Best,

Executive Function
,
Visual Processing
and other Challenges
Most smart struggling students learn best when they see and experience information.  We call this student a kinesthetic learner.  Others may call them a right brain or visual learner.  These students often struggle more than their more logical, sequential and auditory peers with remembering words seen and not mastered, not understanding high frequency words and with visual processing issues.  That is, they often have better peripheral vision, but they often skip words and lines when reading.
They also do far better with reading comprehension and with math with kinesthetic learning.  They find the work more engaging, it leverages their visual memory, and we make it more relevant.
Our comprehensive assessment includes:
– The Structure of Intellect Assessment ® that identifies:
       – How your child learns best
       – Your child's strengths and challenges
       – Whether there appears to be a visual or auditory processing issues
One principal at a school in Boca Raton asked her special education specialist during an IEP meeting, why they stopped using this assessment.  The ESE specialist said the assessment was great because it identified how a child learned best and their strengths and challenges.  She then added that the Federal Government requires public schools to focus on a label,(in order to get program funding) and the SOI does not do that.  She then added, that 3D Learner has the luxury of using this assessment because they are primarily interested in tailoring a program to help a student succeed
The Mindprint Assessment(R) that assesses Executive Function and identifies strengths and weaknesses for:
Working Memory

Processing Speed

Attention

Flexible Thinking

Abstract Reasoning

Spatial Perception

Verbal Reasoning

Verbal Memory
The MindPrint cognitive screener was developed by neuroscientists at University of Pennsylvania's Perelman School of Medicine through a National Institutes of Health grant. This online assessment is so reliable and efficient NASA uses it to test the astronauts during long-duration space flights.  It is an excellent assessment, and where help is needed, we can provide it with the Brainware Safari Program ®, the Interactive Metronome ® and the core 3D Learner Program ®
For local clients, we use a Visagraph that shows how a student's eyes track when reading.  Click here to see how a student's eyes tracked before and after our program.
We use the Interactive Metronome ® to assess for attention.
We do a Woodcock Johnson Reading Comprehension ® assessment.
3D Learner is now offering the

Safe and Sound Protocol

at no cost for those investing in a Comprehensive Assessment by September 30th

Call 561-361-7495 or click here to book an

Assess for Success conversation