Our children have experienced a substantial educational loss in this pandemic. The gap between those students who have moved forward and those whose progress was stifled is growing wider.  This is particularly true for students who require accommodations such as taking exams orally or with extended time limits.
At 3D Learner, we have recognized expertise working with smart, struggling students. Some are Visual Learners who respond better to alternatives to traditional school-based interventions given their inherent difficulties with traditional, logical, sequential, and auditory processes.  Other students often have memory, processing, attention, and anxiety issues.
Though many of these students receive support services in the classroom, this support has been difficult to follow through with during the pandemic. A recent survey by ParentsTogether painted a grim picture, with 40% of parents reporting they weren't receiving any support, and just 20% reporting their children were receiving all of the special education services they typically received in school.
According to Chalkbeat, school superintendents themselves recognize this dilemma. Among the 501 school district superintendents from across the country who responded to a survey, 83% said that providing special education services was difficult to provide equitably during remote learning.
WHAT DO WE DO NOW?
In the American Psychological Association article, University of Virginia Professor Sara Rimm-Kaufman points out that an important next step will be to figure out how best to assess student's knowledge as they start the new year. "Some kids will come in having lost months of instruction, so educators will have to make broader assessments than they usually would, and find ways to adjust their instruction accordingly."
Under 'normal circumstances'  going to school can be a major cause of anxiety for these students. Next year is likely to be especially challenging, as schools try to accommodate the many students who are far behind, while still moving forward with the current grade curriculum.
SIX SUGGESTIONS FOR PREPARING FOR SCHOOL
Concerned, loving parents can have more impact on their child's resilience than even the most gifted teacher. Here are 6 suggestions for how you can help your child.
1. TALK
Talk with your child's teacher and get a sense of how well your child is doing, where the issues are, and what they would recommend. Share your observations, suggestions, and concerns. Having clear and mutually supportive lines of communication between you and the school will make the situation easier for everyone.
2. ASK FOR INFO
It is not unusual for a teacher to say that your child is doing okay. But does 'okay' reflect their learning potential? If you look at the data the schools provide, you may find your child is further behind than either you or the school realize.
3. REACH OUT FOR HELP
It may be helpful for your child to be assessed by experts with experience in the issues your child is facing. Educational, psychological, and sensory evaluations can provide new insights on how your child learns best and what the schools can do to meet their needs.
4.  REMEMBER YOU ARE THE PARENT
The return to school and the frustration of not being taught in a way that works for them can trigger your child's anxieties. It is the school's job to teach your child. It is your responsibility to make home a safe place for them where they get support, not pressure, or punishments.
5. HUG YOUR CHILD
Hug your child and tell them things will be OK. They are looking to you for love and assurance. Your positive attitude will be contagious. Remember that school is the issue, not the child.
6. EXPLORE ALTERNATIVES
Finding the proper support system for your child has never been more important or more accessible. With the introduction of online help, you can access services like 3D Learner to improve your child's academic and processing skills while building their confidence.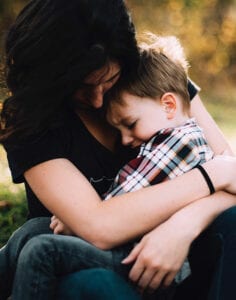 While academics are important, nothing is more important than your child's mental health.
If your child is smarter than school grades show, it may be because he/she is a Visual Learner. There is nothing wrong with that. It simply reflects how some children learn best. For a simple assessment take the free Visual Learner Quiz at www.3dlearner.com/quiz-2.
At 3D Learner, our goal is to strengthen student capabilities to deal with academic, processing, and mental health challenges. By doing so, we reduce anxiety, build self-esteem, and rekindle your child's love for learning. Our holistic approach is designed specifically to the needs and interests of your child.
To better prepare children for the next school year, 3D Learner has expanded our summer services including;
Our traditional 1-on-1 program
Small group training at reduced rates.
Brain Training for those students whose key issues are a combination of processing issues such as working memory, processing speed, visual processing, attention, and/or anxiety.
After thorough observation and conversations, we'll share our insights into how your child learns best, their strengths and challenges, and their present level of reading comprehension. We will also offer suggestions on how you as a parent can help your child succeed.
WE ARE HERE TO HELP YOU
If you would like to discuss your concerns about your child's struggles, we welcome the opportunity to learn more about them during a free Stress to Success Strategy consultation.  You can arrange a time by either calling us at 561-361-7495 or by clicking on Book a Strategy Session.
There are so many reasons to be anxious these days. Succeeding at school should not be one of them.
photo: Annie Spratt-Unsplash